The only professional dictation headset with a precision microphone and lossless audio transmission
Philips SpeechOne Dictation Headset: the next generation of wireless headset is here!
The new Philips SpeechOne is the revolutionary new professional headset that affords the personal freedom to dictate hands free without the restraints of a cord. Philips had engineered and implemented an intelligent design to ensure that security is not compromised, while providing comfort with refined ergonomics for prolonged use. Compatible with not only Philips software solutions, but also with Dragon Medical and Dragon NaturallySpeaking software.
This version includes the ergonomic multi-functional remote, for easier software management.  The remote offers a touch sensor for mouse movements, quick record/stop/rewind/forward options, and pre-configured buttons for Dragon speech recognition and Philips software solutions.  You can also easily configure your own custom functionality for your particular software needs.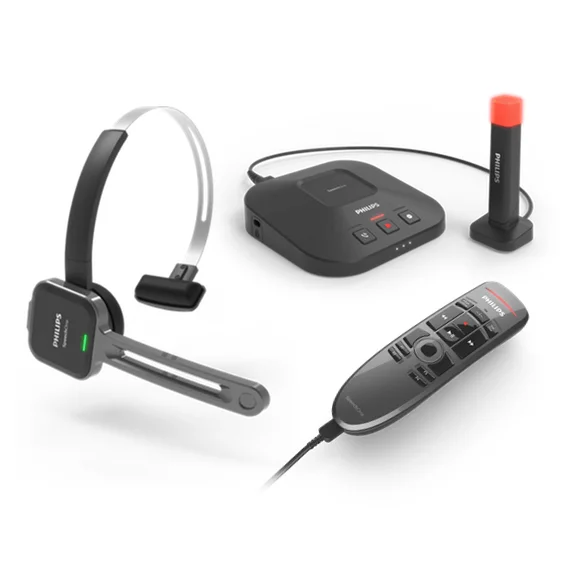 Mobility – wireless range tested to ensure perfect audio up to 16 feet, consistently delivering with no interruptions.  Designed to even provide an audible warning when you move outside of the recommended range
All Day Battery – designed with a rechargeable battery that can charge 80% within one hour on the docking station; a full charge will last up to 12 hours of recording time!
Status Light – A great solution for your office that clearly shows your colleagues when you are busy recording or on a call
Better audio quality – lossless audio technology means no compromises on quality; simply the best wireless audio possible
Customizable Comfort – designed to change for your preferences: the microphone arm swings 360 degrees, allowing you to wear the speaker on either side of your head, and the headband is adjustable to wear behind your neck 'wraparound sports' style
Replaceable Cushions – unique magnetically attached cushions allow you to easily swap when needed (especially useful for shared units!)
Designed for Skype – out of the box it is integrated with Skype for Business so you can easily switch back and forth between calls and dictation
Hygienic – microphone arm is manufactured with antimicrobial material
What's Included?
SpeechOne Wireless Headset with Microphone
Docking Station
Status Light
Remote Control
USB Cable
Behind the Head Neckband
Magnetic Ear Cushion
2 Magnetic Head Cushions
Quick Start Guide